Your 1st indoor cycling training
For your 1st session, we ask that you arrive 15mins ahead of time so that we can set up the bike for you
and take you through the main moves.
Classic
Notre séance de référence Spinbreak pour lâcher prise et travailler l'ensemble du corps. Musiques rythmées, playlists uniques, on va danser sur notre vélo et nous défouler comme jamais 😉
+600 calories dépensées à chaque séance et garantie sans courbatures !
Séance de 40 à 49 minutes.
POWER MIX
Plus intenses et toujours aussi inspirantes, transporté par le beat, on ne voit pas le temps passer.
Gainage, abdos, jambes, chaque groupe musculaire travaille. 
Séance de 49 à 55 minutes.
LIFT CYCLING
Plus soft au niveau du cardio et avec des haltères pour approfondir le travail sur les bras et les épaules, on travaille sa respiration, son équilibre et gainage.
Les séances sont adaptées à tout le monde, quel que soit notre niveau de fitness. Parfait pour une remise en forme en douceur.
Séance de 40 à 45 minutes.
ENDURANCE
Dans cette session, les positions sont maintenues plus longtemps. On travaille chaque mouvement plus en profondeur, et on se laisse emporter par le rythme.
Déconnexion totale, en mode évasion, le temps passe trop vite !
Séance de 43 à 60 minutes.
ANAEROBIC
LE cours fractionné par excellence ! Entrez dans une zone de folie : dans un mélange de son rave & pop, ces séances hyper fractionnées nous emmènent au-delà de notre zone de confort pour un dépassement de soi encore plus puissant.
Pour Spinbreakers confirmés uniquement.
Séance de 43 à 47 minutes.
VOD
"I loved the immersion in the gym, even alone you feel the energy of the coach as if he were there and the loud music is a real plus! The video quality is superb and the shots are dynamic. Frankly, it's top-notch! M.B.
VOD, what is it ?
In our Cycling room, watch our video sessions recorded by our coaches on a giant screen! Enjoy all types of Spinbreak sessions (classic cycling, Lift, PowerMix, Endurance...) and the immersive atmosphere of the Studio.
VOD, why to try it ?
For everyone! VOD is accessible to everyone, even if it's your first session! If a coach is present, he'll show you the positions before the class starts.
Do you have a staggered schedule, a gap in your day, a day off during the week, or do you prefer to do your sessions when it's less busy? Here's the solution!
Come and pedal when it suits you, alone or in a small group, and enjoy the Spinbreak VOD experience!
With the lights dimmed and the music blasting, our coaches will get you moving to the rhythm of the music!
READY ?
VOD, spin at a reduced price !
Specific session packs are dedicated to VOD and express sessions.
We offer 5, 10 and 20 sessions at special VOD prices, so come and give it a try!
Note: A la carte session packs, valid for all our activities, are also valid for our VOD courses.
services
All the usual services are guaranteed:
-Bike adjustment
-Shoes
-Towels (session + shower)
-Water bottle
-Locker
-Access to showers an beauty products 
the benefits of VOD
▪Come and ride at any time of day
▪No minimum number of participants
▪Come alone or with friends and privatize the room
▪Propose slots according to your availability
▪Maintain our usual services
▪Spinbreak fun guaranteed!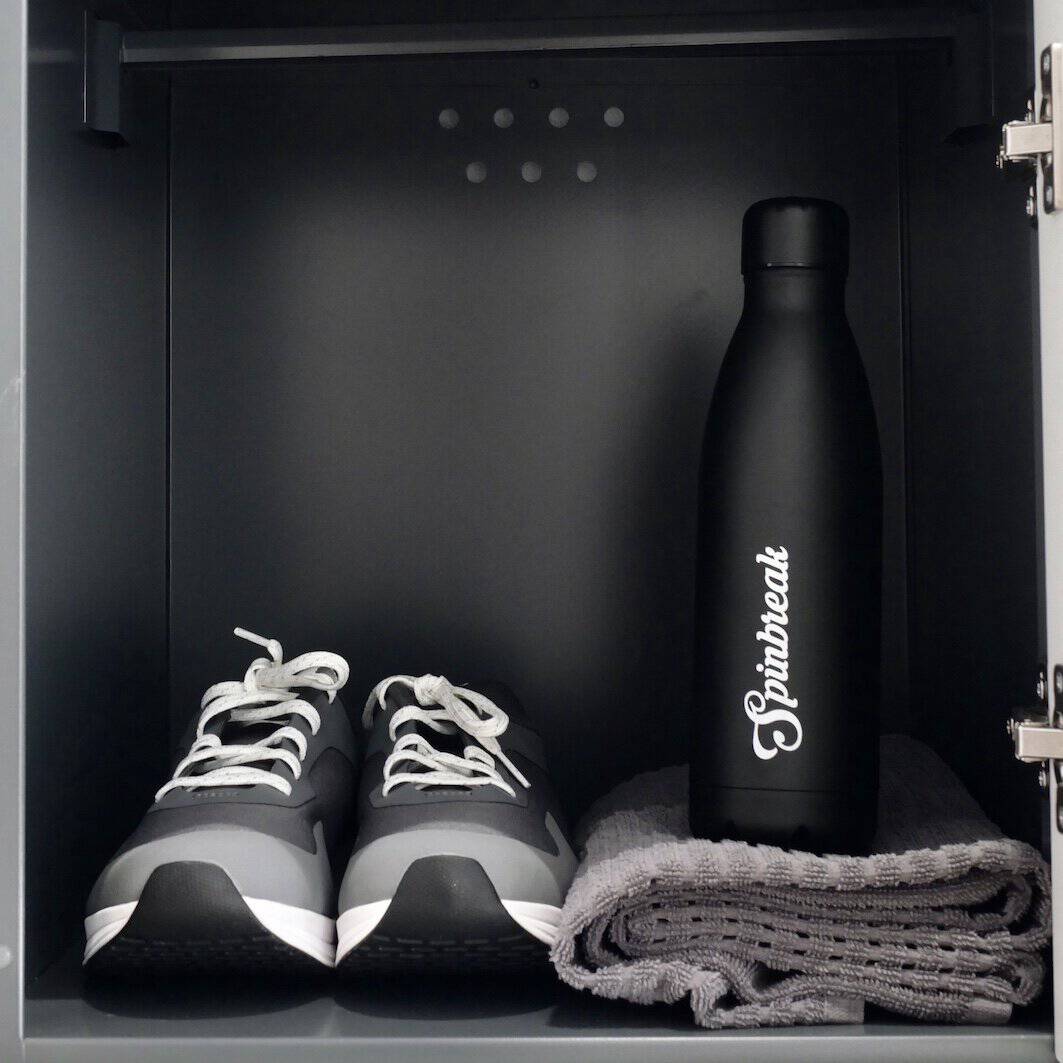 SHOES
We lend Shimano cycling shoes (with SPD) clips to our members. 
You can also buy your own pair at the studio. 
WATER BOTTLES
Your Spinbreak water bottle will be waiting for you as you enter the cycling room. 
Don't forget to stay hydrated during the class! We recommend drinking 1 litre of water during/after each session. 
Towels
Small towels for each training session, as well as larger towels for showering are available throughout the studio. 
Showers and Beauty Products
After your class, take your shower and continue to unwind and relax by using our lovely beauty products.
LOCKERS
Individual lockers, with keys, are at your disposal to store your personal items during your session. 
Clothing
Come to class with comfortable clothes, adapted to cardio workout. "Technical" material is recommended, as it helps dry sweat much faster than cotton.
We sell lovely Spinbreak t-shirts and sports bras at the studio, so you can pick one up there too 😉
Students
Students can receive a 15% discount on your pack of credits by showing an active student card.
Waiting list
If your favourite class is full, don't worry! Put yourself on the Waiting List and you will be sent an email as soon as a place becomes available!
Payments
You can buy your credits directly online (via BSPORT) or you can pay in person at the studio- by credit card, cheque or cash.
Cancelling your class
Please cancel your class a minimum of 6h before the start of the class in order for your credit to be refunded.

I am Pregnant
Congratulations! Feel free to speak to your coach. They will guide you and adapt your session so that you can continue your wonderful workouts!